American Public Media
165 Queries
When did you know you were a conservative?
By Melody Ng
|
Nov. 09, 2011
|
330 Submissions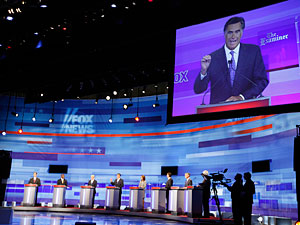 Charlie Neibergall, Associated Press
The candidates vying for the Republican presidential nomination get a lot of media attention, but they can't elect themselves. Only you can. That's why the Public Insight Network is working with newsrooms across the nation to tell the stories of conservative voters.
Yes, I'm curious who your current frontrunner is, and why. But, more so, I want to hear about you: When did you realize that you leaned conservative? And what or who influenced your political (and possibly, social, fiscal, and/or theological) views?
Thank you. If you have any questions about the survey below or the Public Insight Network, contact me, PIN analyst Melody Ng, at mng@americanpublicmedia.org or 651-290-1499.
165 Queries
---