American Public Media
165 Queries
Have you needed or used a medical interpreter?
By Melody Ng
|
Jun. 14, 2012
|
0 Submissions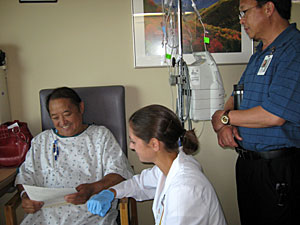 It's the law: Medical patients who don't speak or understand English well are entitled to interpreters -- free of charge -- at hospitals, clinics, nursing homes or other facilities that receive federal funding. But how does medical interpretation work out in real life?
Please tell us about your experience communicating -- or trying to communicate -- about health care at the clinic or at the hospital. What difficulties or challenges have you encountered? Has the presence -- or absence -- of a competent medical interpreter mattered to you or someone you love?
You'll help us better understand and report on how medical interpretation works, and where it doesn't. Thank you for your time, and your story!
165 Queries
---