MPR
235 Queries
How are you dealing with damage from Sunday's tornado and storms?
By Melody Ng
|
May 24, 2011
|
8 Submissions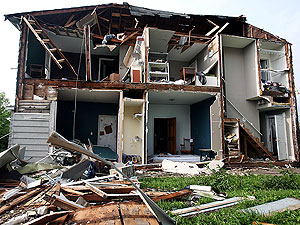 Sunday's tornado that hit the north side of Minneapolis, killing one person, injuring at least 48 others, and razing homes and businesses, is the worst the city has seen in 30 years. Now comes the difficult work of getting people back into homes, and cleaning up.
Northsiders have returned to homes in certain areas that have been deemed safe. But dozens are still staying in shelters, because they lost their homes, or because their block is still being assessed. Thousands are still without power.
Please share your firsthand stories and photos of the tornado. And, tell us what you and your community are doing to recover.
235 Queries
---